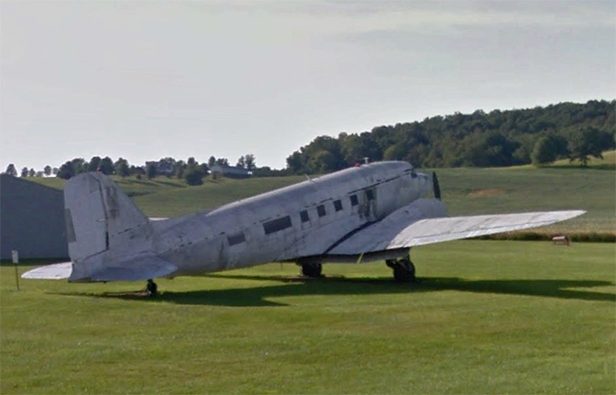 Yesterday, C-53 Skytrooper "Beach City Baby" performed a taxi test under its own power for the first time in 20 years.
As previously reported, the aircraft (S/N 41-20095) was constructed by Douglas and was on the factory floor when the Pearl Harbor attack occurred in December 1941. It was delivered to the USAAC in January 1942 and was soon flown to Africa to participate in Operation Torch. The machine also saw service transporting troops and VIPs during the war and completed its service with FEA, Cairo Division.
Following civilian service with Danish Airlines/SAS and a stint as "Buckeye One," the official state aircraft for the governor of Ohio, the Skytrooper was retired and flown to the USAF Museum in Dayton, Ohio where it remained until 1990, when it was acquired by Ohio University of Athens and stripped of its engines. Eventually Ken Joseph stepped in and returned it to an airworthy state, obtaining a ferry permit and flying it to Beach City, Ohio in 1992.
Dubbed "Beach City Baby," the C-53 is now under the care of the nonprofit Vintage Wings, Inc. and is in the process of being restored for its next mission: touring the country as a flying classroom and mobile living history museum.
Yesterday's test saw the machine run "as smooth as we could have hoped." It is reportedly "not long now at all until she takes off for the very first time to make her way home to Franklin, Pennsylvania."
Video from the cockpit of the taxi test today. I was honored to share this moment today with so many amazing friends and…

Posted by Jason Capra on Sunday, August 5, 2018

(via Vintage Wings Inc. Top Photo: Google Earth)