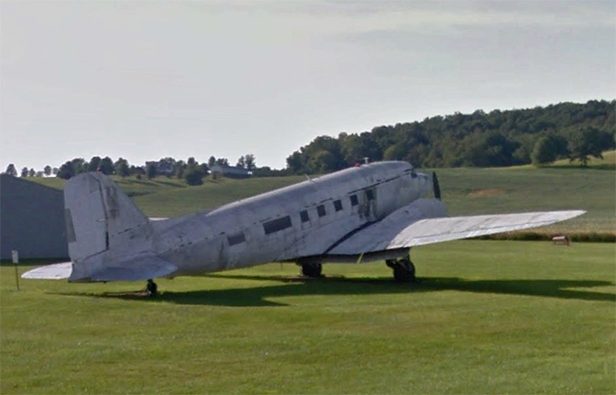 Commissioners in Venango County, Pennsylvania have reportedly approved a "memorandum of understanding" with Vintage Wings, Inc. that will see their newly restored C-53 Skytrooper housed at the Franklin Venango Regional Airport.
The unanimous decision paves the way for the Skytrooper to be flown from its current location in Ohio to its new home – an event that is expected to take place this summer.
The aircraft (S/N 41-20095) was constructed by Douglas and was on the factory floor when the Pearl Harbor attack occurred in December 1941. It was delivered to the USAAC in January 1942 and was soon flown to Africa to participate in Operation Torch. The machine also saw service transporting troops and VIPs during the war and completed its service with FEA, Cairo Division.
Following civilian service with Danish Airlines/SAS and a stint as "Buckeye One," the official state aircraft for the governor of Ohio, the Skytrooper was retired and flown to the USAF Museum in Dayton, Ohio where it remained until 1990, when it was acquired by Ohio University of Athens and stripped of its engines. Eventually Ken Joseph stepped in and returned it to an airworthy state, obtaining a ferry permit and flying it to Beach City, Ohio in 1992.
Dubbed "Beach City Baby," the C-53 is now under the care of the nonprofit Vintage Wings, Inc. and is in the process of being restored for its next mission: touring the country as a flying classroom and mobile living history museum.
The cabin and cockpit will become a classroom with learning modules using key points in its distinct history that align with key points in aviation history. Guests will see the significance of its role as a Military C-53 in winning the war and as a DC-3A creating the model for the modern air transportation system. Flying into airshows, fly-in's and other aviation related events, it will offer more then just a silent and empty cabin. Our core goal is to inspire future generations by telling the amazing history of 41-20095 as only it can do.
Work on the aircraft is currently said to be 60% complete. Fundraising to complete the project is ongoing, with donations being accepted on Vintage Wings, Inc's homepage.
(via The Titusville Herald Additional Information via Vintage Wings, Inc. and Explore Clarion Photo: Google Earth)