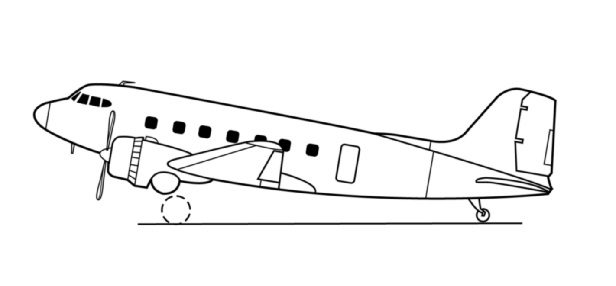 A 1942 Douglas DC-3 / C-49K airframe project is available for sale.
Aircraft was built as a DC3 before the war, then modified as a C-49K and impressed into service. After the war she served with multiple passenger airlines. In 1956 she was converted into an executive transport role (we have the layout). Her most recent iteration was a cargo role.
According to the listing, the aircraft served as part of Air Transport Command during WW2, being sent to Morrison Field in West Palm Beach Florida for use in the 27th AAF Ferrying Wing. It reportedly flew in the D-Day 50th anniversary flight but was damaged by a tornado in 2008, having sat ever since.
The fuselage has some damage on the copilot side just forward of the engine. There is corrosion above the windshield. The left (pilot) wing appears undamaged. The right (copilot) wing will need repaired. The vertical & horizontal appear in good condition. The inside of the fuselage is full of zinc chromate & has very minimal corrosion. CorrosionX has been sprayed on any corrosion we've seen. Center section is bolted together, not riveted, which means you can disassemble and truck down the road. Wings have bolted rear section as well. Very great starting point with many of the "little" pieces. These don't come up very often anymore, get yourself one before they're all gone!

This is a PROJECT aircraft. She could be made flying again with the proper work. This is a great opportunity for a museum or an airport wanting a static display/gate guard.
The machine is reportedly located at the Rolla-Vichy Airport (VIH) in Missouri and is currently being offered for "$15,000 USD Or Trade." Click here to check out the complete listing.
(Top Image: NASA via Wikimedia Commons)