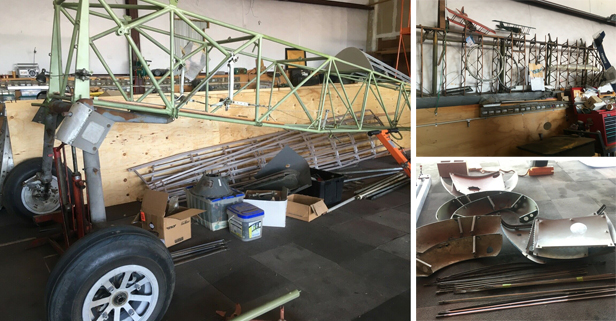 A Stearman project as well as a large collection of related parts has been spotted for sale. The listing states (in part):
I have one Stearman Project with new wing and center section kits, new stringers (top, bottom and sides), including 4 different engines: Two 300 Lycomings, one R-985 PNW and one 440 horse Wright Engine.I have everything from carburetors, magnetos, governors, enough wing hardware for two airplanes, several stabilizers, front and back cockpit cowling, two to three firewalls, new old stock landing gear, tons of wheel and brake parts, landing gear scissors, all kinds of motor mounts for the engines, several BT-13 dishpans, hundreds of fuselage clamps, a multitude of instruments, extra wheels, two 2D-30 props, one windshield, complete sets of Cobain Struts plus extras, complete set of N-Struts, complete set of flying wires, elevators, front and back throttle quadrant, new wood wing kits, two fins, one fuel tank, seats, front and back sticks, all rudder/tail wheel cables and complete trim tab setup. Gear leg farings and many faring attachments.
The project / collection is located in Auburn, California and is currently available for US $80,000, although offers are also being accepted. Click here to check out the listing, which includes additional photos and details.