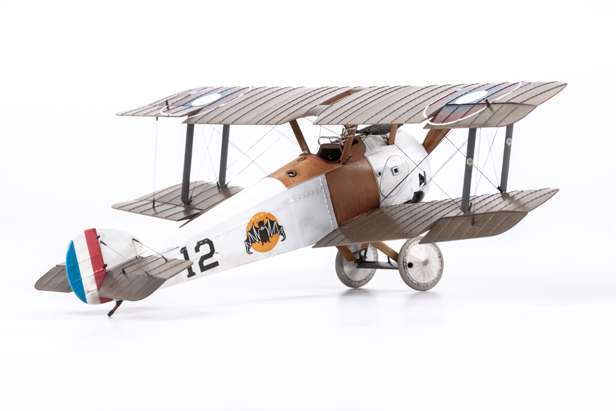 Eduard has released a new tool, dual combo Sopwith Camel model kit in 1/48 scale.
The limited edition offering, dubbed "Camel & Co." (11151) includes Eduard plastic parts for two aircraft as well as pre-painted photo-etched details and a painting mask. Eduard decals with ten marking options (including two fictional Biggles liveries) are also included:
J4613, Capt. James Bigglesworth (No. 266 Sqn RFC); J1936, Capt. James Bigglesworth (No. 266 Sqn RAF); 83889, Capt. Clive F. Collett, (8 Flight, No. 70 Sqn RFC); 87190, Capt. Walter G. R. Hinchliffe (C Flight, No. 10(N) Sqn RNAS); 83893, Capt. Arthur R. Brown (No. 9(N) Sqn RNAS); N6377, Capt. Harold F. Beamish (No. 3(N) Sqn RNAS); Capt. Henry R. Clay Jr (41st Aero Squadron USAS); C6713, Capt. D'Urban Victor Armstrong (No. 151 Sqn RAF); C1555, Capt. Francis L. Luxmoore (No. 78(HD) Sqn RFC); F1471, (185th Aero Sqn USAS).