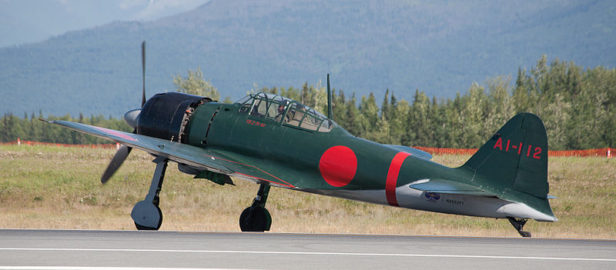 A 1942 Mitsubishi A6M3 Zero (S/N 3858 / N553TT) has hit the market. The listing states:
Legendary WWII fighter aircraft – Original, salvaged airframe recovered from New Guinea – Detailed logbook listing all work and certifications – Original Nakajima Sakae engine available – Movie Star with combat history – Located in CA, USA
The machine reportedly underwent a "historic and authentic restoration using original engineering drawings (set of original Zero blueprints)" and returned to the air in 2000. It is marked as AI-112 and finished in the colors it wore for the film Pearl Harbor, where it flew some 55 hours for filming. The machine is reportedly fitted with a Pratt & Whitney R-1830 engine modified in order to fit without unduly changing the cowling lines of the Zero – however, as stated above, an original Nakajima Sakae engine is reportedly available.
Pricing is available upon request. Click here to check out the complete listing.
(via Trade-a-Plane Photo: Frank Kovalchek via Wikimedia Commons)