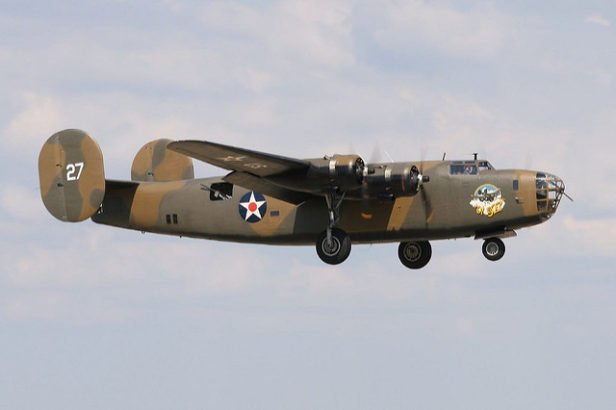 The Commemorative Air Force has reported that their B-24 Liberator "Diamond Lil" returned to the air for the first time in over two years on October 22.
As previously reported, the aircraft (AM927) was delivered to the British in May 1941 and transferred to Trans World Airlines (TWA) to conduct training of RAF pilots out of Albuquerque, New Mexico. A landing accident shortly thereafter resulted in the bomber being returned to Consolidated in San Diego. In July 1942, it returned to service as the C-87 Liberator Express prototype, acting as a personnel and equipment transport and test platform. Following the war it was modified with long RY-3 nose and PBY nacelles and saw further use as an executive and personnel transport. It was acquired by the CAF in 1968.
The machine was grounded in 2016 for work that included an interior restoration and the overhaul of three engines. It will reportedly make its first post-restoration appearance at the Wings Over Dallas WW2 airshow this weekend.

(via Commemorative Air Force B29 B24 Squadron Top Photo: D. Miller via Flickr)