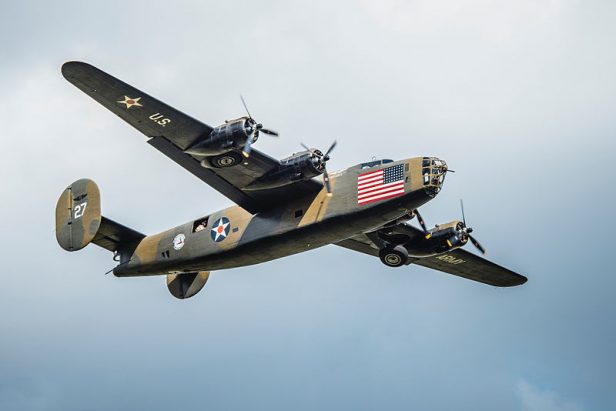 After being grounded in 2016 for restoration, the Commemorative Air Force's B-24 Liberator "Diamond Lil" is nearing its return to the air.
The aircraft (AM927) was delivered to the British in May 1941 and transferred to Trans World Airlines (TWA) to conduct training of RAF pilots out of Albuquerque, New Mexico. A landing accident shortly thereafter resulted in the bomber being returned to Consolidated in San Diego. In July 1942, it returned to service as the C-87 Liberator Express prototype, acting as a personnel and equipment transport and test platform. Following the war it was modified with long RY-3 nose and PBY nacelles and saw further use as an executive and personnel transport. It was acquired by the CAF in 1968.
The recent work was based on an ambitious plan to ensure continued flights well into the future. This initiative included an interior restoration and the overhaul of three engines – the last of which has just arrived at the CAF facility in Texas.
It is hoped that "Diamond Lil" will return to the air by July to continue its role as the oldest flying B-24. Click below to check out a selection of recent photos.

(via Commemorative Air Force B29 B24 Squadron Additional Information via Diamond Lil Top Photo: R'lyeh Imaging via Wikimedia Commons)