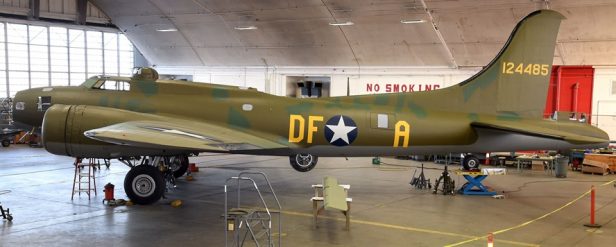 Last week a private event was held to transport the newly restored B-17F "Memphis Belle" from the USAF Museum's restoration hangar to its World War II. In the process, the legendary bomber was positioned nose-to-nose with B-17G "Shoo Shoo Shoo Baby," which will be moving on to a new home.
As previously reported, the Memphis Belle (S/N 41-24485) became the first U.S. Army Air Forces heavy bomber to complete 25 missions and return to the U.S., where it flew across the country to promote war bonds and boost morale. The bomber will be officially unveiled at the museum on May 17th during an event that will reportedly include visiting B-17s and over 100 WW2 reenactors.
Shoo, Shoo, Shoo Baby will be moved to the museum's restoration area and placed in storage until it is transferred to the Smithsonian's National Air & Space Museum at a date to be determined by the Smithsonian.
Click below to check out video of the event.
(via National Museum of the U.S. Air Force Top Photo: USAF/Ken LaRock via USAF Museum)