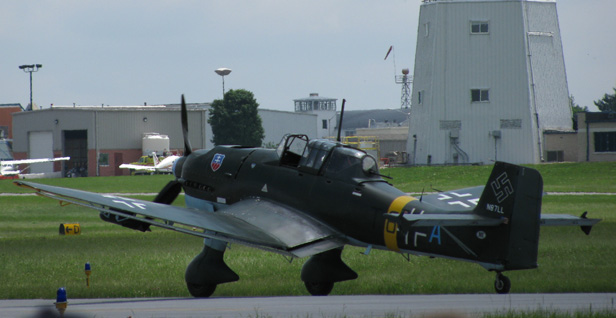 Please Note: This is an archived post. The information presented here may not be current and the associated listing may no longer be active.
A "one-of-a-kind, airworthy, two-seat 7/10 scale replica of the German WWII JU-87 Stuka dive bomber" has been spotted for sale. The listing states (in part):
…this aircraft was built by Louis Langhurst in the US over a 6-year period and completed in 1979. With no original blueprints available, Langhurst developed the plans for the replica based on one of the only two original, intact Stukas in existence… The Langhurst Stuka has completed conditional inspections and is fully airworthy. Currently, the aircraft is in need of an ADS-B. The aircraft is equipped with smoke oil generator and a working siren to simulate WW2 aerial action.
The aircraft (N87LL) reportedly has a 4130 steel tubular frame (648 TT) with riveted 2024-T3 aluminum skin. It is powered by a Lycoming GO-435-B (TT 648.32 hours / TBO 1200 hours). It is located in New Orleans, LA and is currently available for US $900,000 OBO. Click here to check out the listing.
(Photo: Pablo Sanchez Martin [Cropped] via Flickr)