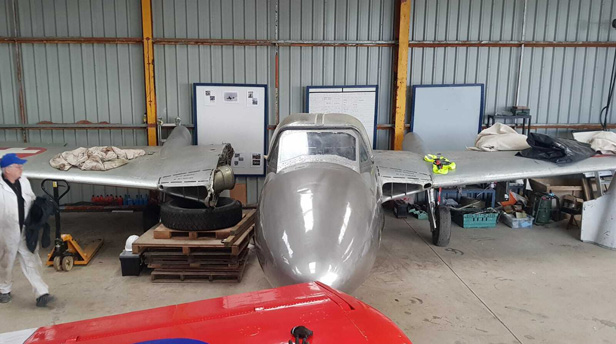 Please Note: This is an archived post. The information presented here may not be current and the associated listing may no longer be active.
A de Havilland T11 Vampire (WZ450 C/N 15037) described as a "complete project well on its way to completion" has been spotted for sale. The listing states (in part):
WZ450 was going through a beautiful restoration with two things in mind. One a working aircraft less engine. Two long term was to get the engine running and taxi. Unfortunately the group has folded and I am forced to find the Vampire a new home. The cockpit has been nicely restored. A wiring loom was in planning but not started yet. Some instruments had been cut in the past. And so do need some attention to repiping. A lot of the pneumatics system has been sourced and the canopy opens and closes well. The wings are currently on but will need to be removed for transport. The control linkages were being worked on just a week ago. Included is a spare landing gear set, spare main fuel tank and spare booms. The engine is in the DH stand awaiting clean up. But the fan blade turns freely and nice looking condition. The windscreen is plastic, but included in a brand new screen still in its wax coating yet to be fitted.
The project is located in Shropshire, United Kingdom and is currently available for bidding. Click here to check out the listing.