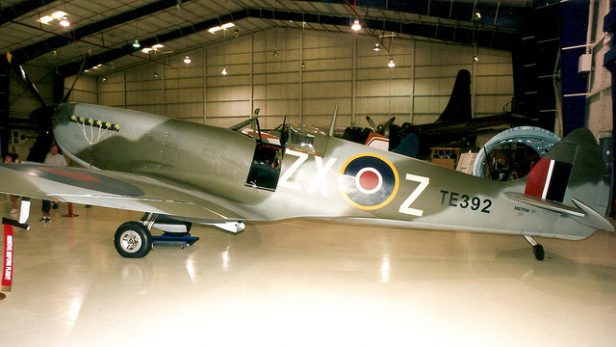 Spitfire XVIe TE392 is available for sale.
The machine was constructed by Vickers-Armstrong in 1945 and did not see wartime service, instead operating with various RAF units until 1952. It was then used for ground instruction before becoming a gate guard at numerous RAF bases. TE392 was acquired by warbird collector Doug Arnold in 1984 and began restoration, however before completion, it had passed to the Lone Star Flight Museum (where it was photographed above in 2002). With restoration complete, TE392 returned to the air in 1999 and performed on the air show circuit until being damaged during Hurricane Ike in 2008. The machine was sent for preservation and storage, being sold in 2017 and shipped to Australia. There, Bishopp Aviation completely disassembled the aircraft and completed a 100 point restoration to the highest standard over a two-year period. It returned to the air in January 2020 and currently operates with Fighter Pilot in Brisbane.
TE392 reportedly has 13.0 hrs since comprehensive 100 point restoration (including new wing spars) by Performance Aero (circa 2018-2019) while the Packard Merlin 266 engine has 13.0 hrs SMOH by Vintage V-12s. It includes a Trig VHF Comm, Trig Transponder and Garmin Aera 660 GPS as well as 40 gal (Imp) wing tanks for extended range and an automatic H20 spray bar system in radiators.
The aircraft is currently being offered for £2,490,000. Click here to check out the complete listing.
(Photo: Bill Abbott via Flickr)