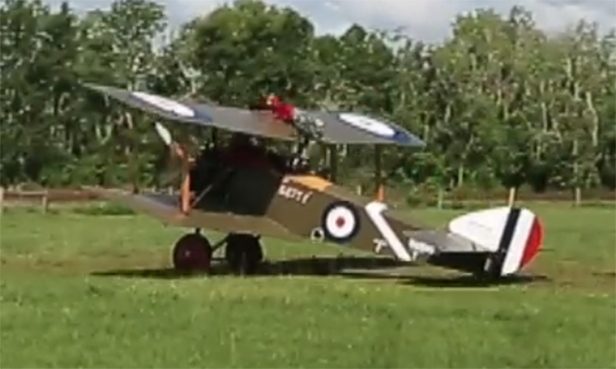 Kermit Weeks' Le Rhone-powered Sopwith Pup reproduction suffered damage after the cowling became detached during its first post-restoration flight.
Weeks states that he "took off fine" and "flew around for about 15 minutes with the 80 hp Le Rhone rotary engine running nicely." He performed numerous figure eights over the field before coming in for a photo pass. He slowly lowered the nose, and just before reaching Fantasy of Flight's runway, was given "a rather sudden, noisy, and spectacular surprise."
The nose cowl is held on by a cable that clamps into a grooved slot on the outside of the firewall. When I slightly dropped the nose, the increased airspeed caused the not-so-properly-adjusted cowl to jump the groove and the rotating engine quickly shred it into numerous pieces, sending shrapnel everywhere, damaging the wings, and wrapping cowling around the center section and flying wires that began to flutter in the 80 mph breeze!
Weeks notes that he immediately shut the engine down and focused on landing the plane, which can be seen in the newly released video below, along with photos of the aftermath.

(via Kermit Weeks Thanks, Pascal!)