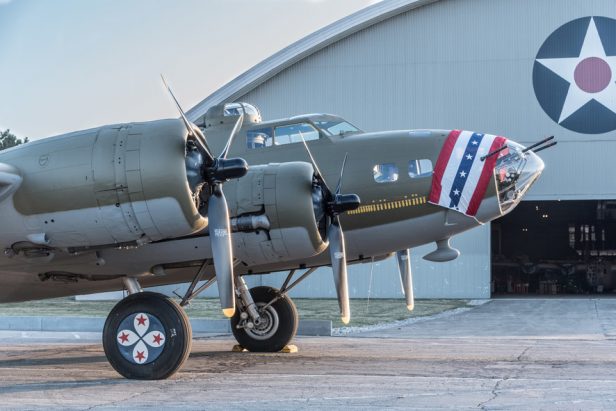 Numerous additional aircraft will reportedly be in attendance for the upcoming unveiling of the newly restored B-17F "Memphis Belle" at the USAF Museum in Dayton on May 17.
B-17Gs "Yankee Lady" and "Aluminum Overcast" will now be joined by the B-17G/F "Movie Memphis Belle" as well as six P-51 Mustangs and three WWII-era trainer aircraft – all of which will reportedly take to the skies over the museum on May 16 as part of the opening of the event.
Plans call for 11 of the WWII-era aircraft to land at the museum on May 16 between 8-9 a.m. (One P-51 will be part of the initial flyover but not land at the museum.) The aircraft will then be available for viewing on static display May 17-18 from 9 a.m. – 4 p.m. On May 18 at approximately 4:30 p.m., visitors in the museum's Memorial Park may view the aircraft as they take-off and depart the grounds. (Note: Outdoor events are weather dependent and subject to change.)
The three-day celebratory event (May 17-19, 2018) will also feature more than 160 WW2 reenactors representing period airmen, ground crew, infantrymen, nurses and more. Additional attractions will reportedly include historic vehicles, memorabilia and artifact displays, music from the era, guest speakers, book signings and films. Click here to check out the complete schedule.
(via USAF Museum Photo: U.S. Air Force photo by Kevin Lush)