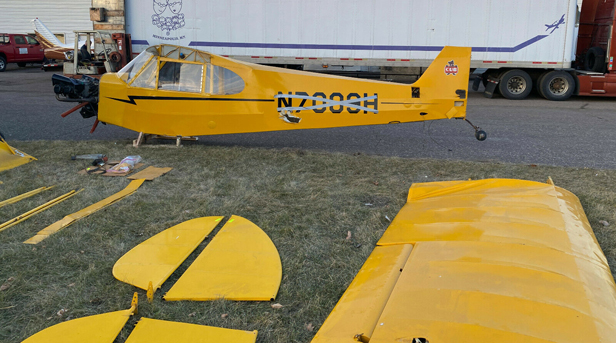 A 1946 Piper J3C-65 Cub project has been spotted for sale. The machine reportedly hit a fence and is described as "cute, cheap." The listing states (in part):
The logs we have show the total time as of 1996 to be 1131 hours. At that time 7/96 the airplane was rebuilt and recovered after sitting for a long time. Extensive work was done to the airframe, wings, surfaces, gear, etc.etc. And all new fabric was applied to everything at that time. The A-65 Continental engine was also rebuilt at that time, with a standard limits crankshaft. Since that rebuild the aircraft has been used and inspected regularly and now has 1,565 hours total time!

The last takeoff did not go as planned. The engine ran up just fine, but during the takeoff roll the power and rpm seemed to decline, so even though the airplane had broken ground, the pilot slipped it back onto what was left of the grass runway. Without enough room to stop, the airplane impacted a wooden fence at the edge of the airport.
The listing includes a list of damage as well as a selection of photos. It also describes the machine as "a whole J3C-65, annual just expired 9/1/2020" and "not a rusty barn find." It reportedly includes the logbooks for both engine and airframe (96-present) and the FAA bill of sale.
The aircraft is located in Minneapolis, Minnesota and is currently available for bidding with a "buy it now" price of US $9,950. Click here to check out the complete listing.