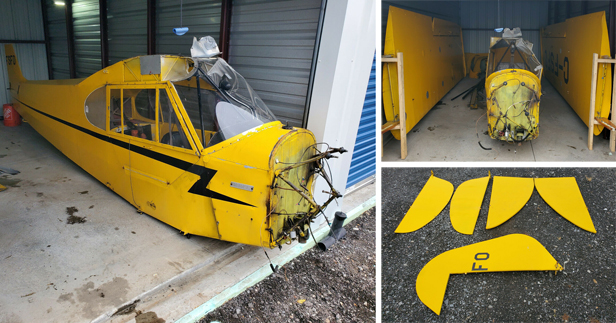 Please Note: This is an archived post. The information presented here may not be current and the associated listing may no longer be active.
A 1945 Piper J-3 Cub project has been spotted for sale. The listing states (in part):
This airframe had a major renovation in 1986 with Stitts PolyFiber and a partial rebuild and partial recover in 2003 as well. This aircraft was regularly rotated between floats, skis and wheel gear, but is being sold here with none of the above!! The complete airframe is included; wings, ailerons, complete fuselage, tail feathers, flying wires, lift and jury struts, cowling, engine mount and exhaust! This airplane did not crash!! While being stored outside for a time, the weight of a snowfall built up on the left wing and bent the lift strut, allowing the left wing to fall… The only damage to this entire airplane is to the left upper fuselage and the left wing… Sold with Canadian bill of sale, all logs since 1965 and folders full of receipts.
The project is located near Syracuse, NY and is currently available for bidding. Click here to check out the complete listing.