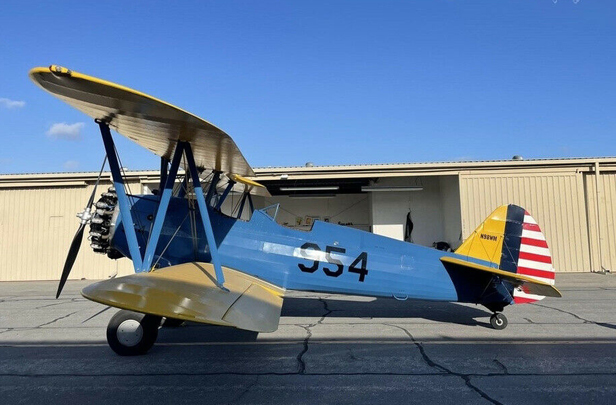 An "always hangared, logs complete" 1941 Stearman (S/N 41-954 / N98WM) has been spotted for sale. The listing states (in part):
Hangar Queen looking for a new home. I searched high and low to find a truly amazing Stearman and brought this bird home from North Carolina 3+ years ago (my best flight ever). Unfortunately, it's time to move on as I have too many airplanes and not enough time to enjoy her. All options! Nothing needed! ADS B In and Out! Vintage plane with removable glass cockpit integrated with the Garmin 345 Transponder. Imagine having a moving map and traffic in the cockpit! Talk about Safety! Redline brakes, Roller Bearings, Jasco Alternator, Solid Tail Wheel Tire. Clean condition. 100 hr. prop inspection was done recently. Annual due next month, expected to pass with no problem – will coordinate with Pre-Buy. Full restoration was done in 1997 with overhaul of engine. Compressions are strong and this bird is beautiful! Gas powered Tail wheel tug included
The aircraft is reportedly powered by a 200 hp W670-6A (S/N 75-714) with 3400 hrs (230 SMOH). It is located in Lomita, California and is currently available for $125,000, although offers are also being accepted. Click here to check out the complete listing.