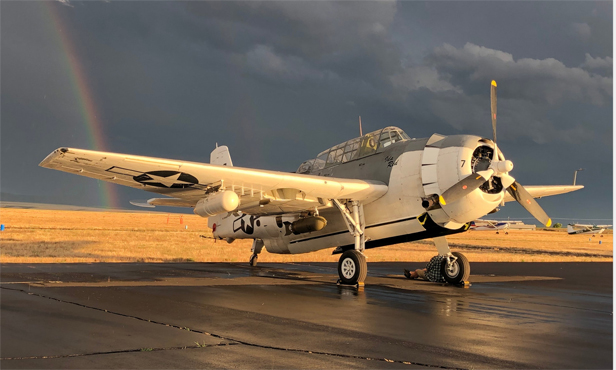 1945 Grumman TBM-3E Avenger (S/N 88582 / N9584Z) "Ida Red" has hit the market. The listing states (in part):
Manufactured in March 1945; Accepted by U.S. Navy; Stationed at NAS Seattle for use as a Radar Operator Trainer; VT-4; VT-11; CASU (Carrier Auxiliary Service Unit); Decommissioned from the US Navy in 1956. Never a Crop Duster or Fire Bomber
The airframe reportedly has 3615 hrs TTSN while the Curtiss Wright R-2600-20 engine has 680 hrs SMOH by Rudy Blakey. The machine spins a Hamilton Standard 22E50 (6501 blades) with 440 hrs SPOH by H&S Propeller. The aircraft boasts a replica 5 inch HVAR / 2500 lb GPU bombs, empty APS-4 radar Pod (very rare) mounted on right wing, removable COD (Carrier Onboard Delivery Container) installed in bomb bay, tailhook and markings representing the North Atlantic Hunter-Killer Carrier Task Forces.
Additional features include an avionics package, electric standby hydraulic pump, electric oil shut-off valve interconnected to starter, two piece tailwheel tow bar installed in bomb bay and Bruce's custom cabin cover (including turret). A lengthy list of spares and tools / manuals are also included. The aircraft has been maintained by Airpower Unlimited of Jerome, ID since 2016 and the listing details restoration and significant restoration work since that time.
The Avenger is located in Oregon and is being offered for $495,000. Click here to check out the complete listing.