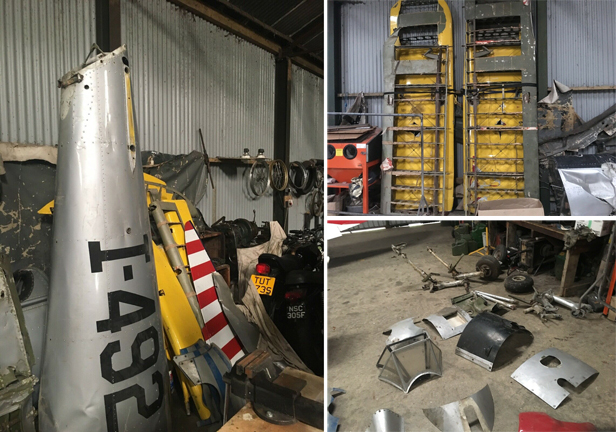 A Ryan PT-22 project has been spotted for sale. The listing states (in part):
Has been registered with the CAA and was flying on PFA /LAA permit at time of accident G-BPUD and comes with its CAA airframe logs. Complete and very detailed drawings are available I have most drawings for repair which are included in the sale. Chance to own and rebuild a Two seat, aerobatic, affordable vintage aircraft could be repaired to flying condition or static display. Forced Landing Accident saw it put into storage some years back. Currently stripped down for repair.

Mostly the airframe is complete although needing repair. Two sets of wings ( as per photo original yellow coloured ones in photos with damaged spare uncovered wings laying on top all flying controls surfaces were pretty much undamaged also have spare elevator, rudder, flap, ailerons, vertical fin. Crate of engine parts comes with it, including 3 crankshafts, 3 crankcases, 6 cylinders, pistons, cams, 3 back cases many parts, almost complete Un damaged undercarriage including 2 tail wheel assemblies, propeller in excellent condition and hub. Cowlings, windshield x2, may other unlisted and not in photos.
The project is located in East Lothian, United Kingdom and is currently being offered for £8,500, although offers are also being accepted. Click here to check out the complete listing.