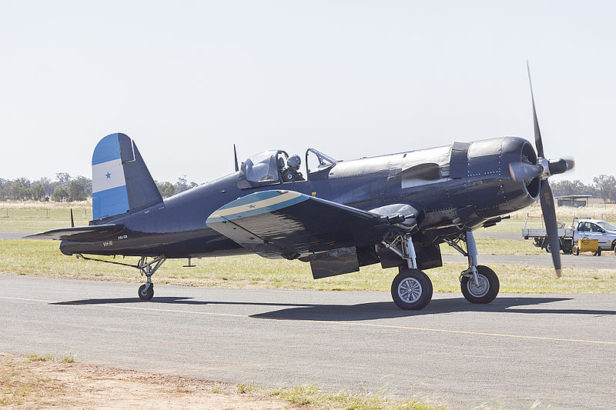 A 1951 Chance Vought F-4U-5N Corsair (B/N 123168 / VH-III) is currently available for sale.
The machine was constructed in 1951 for the US Navy and was later delivered to the FA Hondurena in March 1956 as FAH603. In subsequent years, the aircraft passed through the hands of Hollywood Wings Inc. and the Disney Corporation, which gifted it to RNZAF Museum. In 1996, the unrestored Corsair was traded to its current owner for a P-40F project.
In late June 1996, FAH603 arrived in Melbourne, Australia by ship and taken to Tyabb Airfield. From there it was transported some 2,300 Miles by road to Aerotec's Northern Territory restoration facility in Darwin. Here it has undergone an exacting 17 year 100 point restoration lead by Nobby Bartsch (of Hawker Sea Fury fame) and his many dedicated team members. The F4U-5N has been finished authentically in original Glossy Sea Blue with contrasting stark white and pale blue Fuerza Aerea Hondurena insignia that it wore in service with the FAH. On 4 May 2014 it made its first post restoration flight from Darwin International Airport.
The airframe reportedly has 47.1 hrs since restoration by Aerotec, while the Pratt & Whitney R-2800-99W engine has 65 hrs SMOH by Anderson Airmotive (0 Since IRAN by Anderson Airmotive). It is located in Melbourne, Australia and is currently being offered for $3,450,000. Click here to check out the complete listing.
(Photo: Bidgee via Wikimedia Commons)