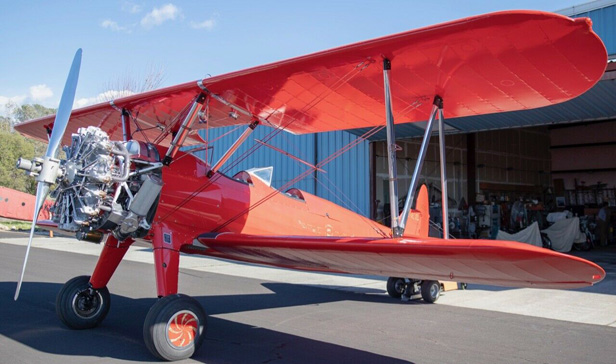 A 1941 Stearman A75N1 has hit the market. The listing states (in part):
Own a Piece of History- Beautiful Red Stearman Seeks Adventure. Fully restored vintage 1941 Boeing Stearman A75N1. This California based Stearman is a reliable, fun, and a fully aerobatic classic aircraft. The aircraft was meticulously rebuilt and offers increased performance with custom built enhancements to the R-985 Wasp engine. The detail of the rebuild is easily visible and the aircraft is mechanically sound and professionally maintained. Aircraft will be delivered with a fresh annual.
The airframe and engine each reportedly have about "500 hrs." The list of enhancements include:
Navcom Radio and Intercom system, 12 volt Jasco Alternator and new sealed battery, Fuselage totally stripped and cleaned then rebuilt with all new AN hardware, New wood in wings and center section, Red line disk brakes, and 24ct gold graphics, N struts and Cabane struts are polished as are all the flying wires, All Dzus fastener were chromed, Covered with poly fiber (stitch) and painted, Engine rebuilt holding all tolerances to blue print minimums, Cylinders were low time standard steel bored .010 over, Fitted with new pistons, rings, valves and guides, Prop overhauled
The machine, which was reportedly flown by WW2 hero Bud Anderson in 2013, is located in Auburn, California and is currently available for bidding. Click here to check out the complete listing.