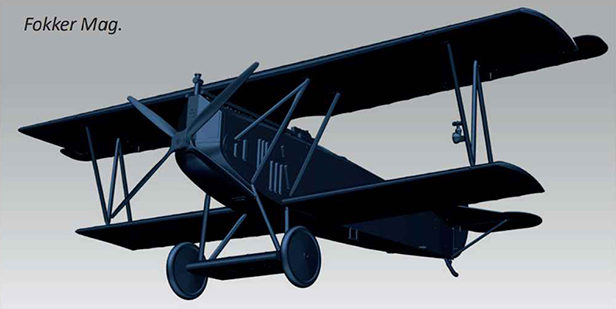 Eduard has provided an update on their upcoming new tool Fokker D.VII model kit in 1/72 scale.
The kit, which will reportedly debut in May, will be "a scaled down version of the 48th scale kit," but will be "modified to the point where the older and larger version will be mostly unidentifiable." The type will also be the subject of a line of kits representing a number of variants. Eduard CEO Vladimir Sulc writes:
The entire line of Fokker D.VIIs will feature revised lozenge patterns which will reflect the most recent research surrounding this mysterious item. The line of D.VIIs will open with the Fokker D.VII OAW, which I consider to be the most striking of all these aircraft. As with the 48th scale version of the model, most of these 72nd scale kits, except for the Austro-Hungarian MAG, will have two versions of the fuselage and in the case of the OAW, these will be the two last production versions. There is a third version of the OAW being planned as well, allowing the option of building Ernst Udet's famous red/white aircraft. As noted and to the contrary, the MAG version will offer just the one fuselage type, as there was just the one, but this kit will offer the relevant differences in the radiator and prop, including the popular four bladed type.
The MAG will reportedly be released in October and will be available at E-day. It will also be released as a Limited Edition kit "similar to the 48th scale item." Sulc also states that the company will release a Quatro Combo Royal Class package, likely in the first couple of months of 2019 with other versions of the D.VII from other manufacturing plants (such as Albatros and Fokker itself) being released through 2020.