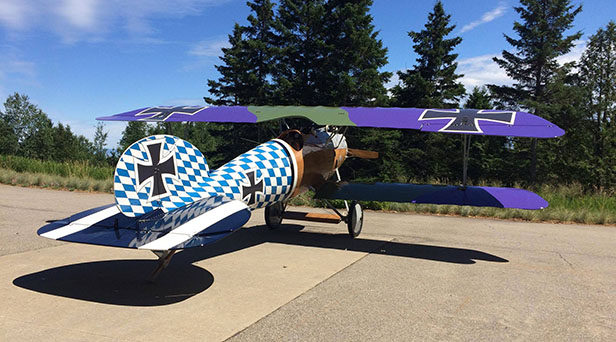 A newly completed Albatros D.Va reproduction is available for sale. The listing states:
2018 ALBATROS D.V.a, TT 0 TIME, SMOH 0 TIME, SPOH 0 TIME, AIRSPEED ANENOMETER (ORIGINAL 1916), ALUMINIUM MACHINE GUN, BUILT ACCORDING TO PLANS PURCHASED FROM THE SMITHSONIAN MUSEUM, WOODEN PLANE, Location: Que. R/N 8001 ALUMINIUM MACHINE GUN CECONITE 101-3 FABRIC CUSTOM MADE FCUSTOM MADE FIRESTONE 30″ X 31 1/2″ TIRES
The aircraft was constructed in Canada between 2008 and 2017 and is powered by a 6-440 Ranger 200 hp engine. It wears the colors of the D.V flown by Lt. Hans Böhning of Jagdstaffel 36 / 76 and later Uffz. Hopf, also of Jagdstaffel 76. Pricing is available upon request.
Click here to check out the complete listing. For additional information about this reproduction check out issues 1 and 5 of The Flying Machine journal.