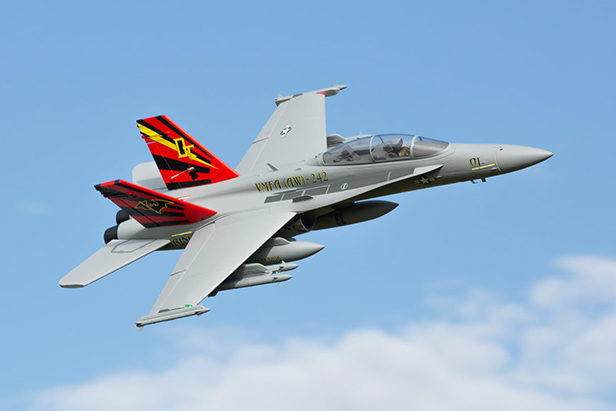 E-Flite has announced the upcoming release of an F-18 Hornet 80mm EDF RC model.
The product is touted as offering "an all-new design with the size, scale details, functional features and performance to deliver an unmatched flying experience." Equipped with 6S LiPo power, its V2 12-blade 80mm fan, high-RPM brushless inrunner motor and 100A ESC "deliver fantastic performance with virtually instantaneous throttle response."
Extra details reportedly include molded-in panel lines and hatches, removable ordnance and drop tanks, a pilot figure, LED navigation lights, full-flying stabs, operational flaps, retracts and sequenced gear doors.
The model is fashioned from durable, fully-molded EPO material and has landing gear described as "the most scale-like landing gear of any F-18 EDF model yet" – with shock-absorbing, trailing-link struts painted white for a realistic appearance.
It will reportedly be available in PNP (EFL3975) as well as BNF Basic (EFL3950) versions, with the BNF Basic model offering optional-use SAFE Select flight envelope protection and AS3X technology for "unmatched stability and locked-in feel."
The model is expected to be released this month. Check out a promo video below.
Product Page (PNP: $439.99 BNF Basic: $469.99 Pre-Order)