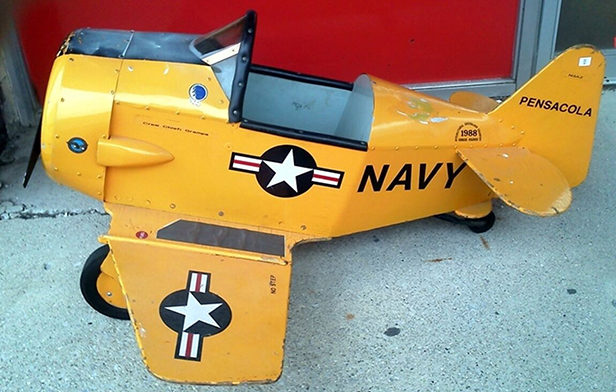 A "custom built" 1988 AT-6 pedal plane has been spotted for sale. The listing states (in part):
This was custom built from a kit by Pedal Planes of Houston by Jim Wittkamp from a kit made by Aviation Products out of Cedar Rapids, IA. This kit is known as the 'Oshkosh 88 AT6/SNJ/Harvard'. This was first displayed at the 1988 Oshkosh Air Show… The overall plane is about 53″ wide from wingtip to wingtip and is about 52″ long from the tip of the propeller to the back of the tail wheel. The overall condition is pretty good, but could use some loving care, as there is minor plywood aging and paint missing in various locations.
The pedal plane is located in East Central, Illinois and is currently being offered for US $722.49. Click here to check out the complete listing.