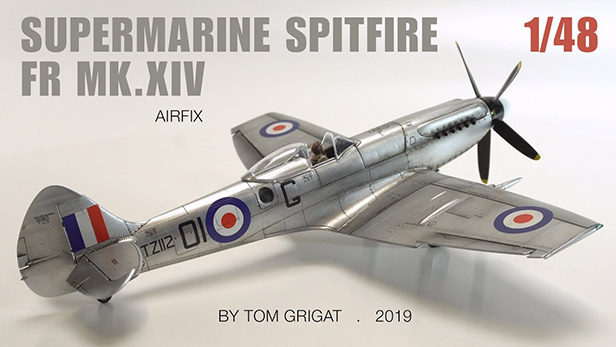 In his newest stop motion assembly video, modeler Tom Grigat takes on the new Airfix Supermarine Spitfire FR Mk XIV kit in 1/48 scale.
Grigat notes that the cockpit painting employed a combination of humbrol and alclad II milspec colors while the pilot is painted with acrylic colors from vallejo. The entire aircraft coat is painted with alclad II chrome on a base of alclad glossy white and glossy black sealed with aqua gloss.
This time I tried the stressed skin effect in a more subtle way compared to the extreme effect I got with the B-17 G in 1/72. Hope it worked better this time…The additional rivets were made with the tool "rosie the riveter" and the gun barrels are brass tubes from albion alloys.
Click below to check it out.
(via TOMs Modelling in Motion)