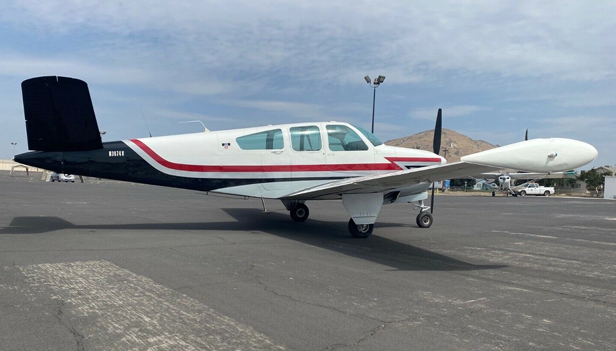 Please Note: This is an archived post. The information presented here may not be current and the associated listing may no longer be active.
A 1947 Beechcraft 35 Bonanza (S/N D-488) has been spotted for sale. The listing states (in part):
This is a true Collectors Item especially in the condition its in with every modification possible! 4947 Total Time Since New. The Engine has 480 Hours since overhaul by Cruiseair Aviation, Inc. it's a Continental E-225-8. The Propeller has 480 Hours since new it's a 215-107/215-213-84. Its has Dual Narco MK 12 D TSO Digital Nav Coms (overhauled) with a Narco AT150 TSO Transponder, Garmin GDL8 GPS, Narco CP136 Audio panel. King KLN 90B TSO ELT with new battery and no AD. Just Installed a brand new Garmin GDL82 ADSB unit $4,000. Some of the modifications are Tip Tanks, Brackett air filter, wing strobes, Beryl D'Shannon one piece windshield, Beechcraft long 3rdwindow with newer tinted glass on compete plane.

Cleveland wheels and brakes, Horizon instruments tachometer. Plus many more mods. The Paint is in amazing shape always hangered since painted rated a 9 of 10. White base with gold/grey accent stripes. The Glass is all-perfect! The interior is in great shape rated an 8 of 10. All logbooks are present since new in 1947 and to date in order with receipts and manuals. The Annual was just completed 9/2021 everything works: All Ads have been done with the heater recently overhauled IFR Pitot-Static system transponder, altimeter and automatic altitude encoder current.
The aircraft is located in Fresno, California and is currently available for bidding. Click here to check out the listing.