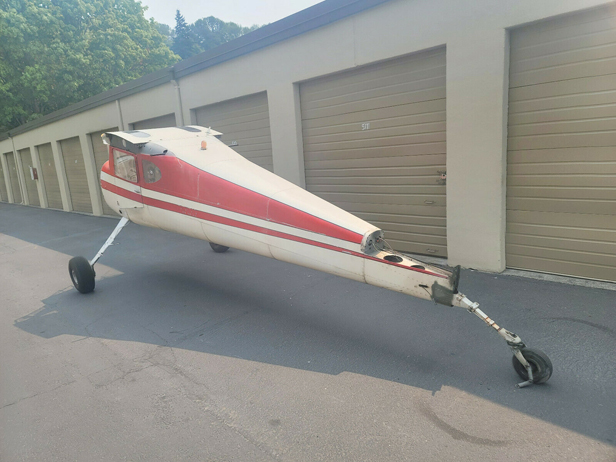 A 1946 Cessna 140 airframe has been spotted for sale. The listing states (in part):
1946 Cessna 140 complete airframe, virtually no damage, updated, in annual, great project, cheap!… This airplane has been tastefully updated for added safety, with the following additions: Cleveland wheels and brakes, Scott 3200 tailwheel assembly (brand new in 2018!), Shoulder harnesses and new seatbelts, Fuselage top strobe, All flight instruments overhauled in 1998 when an upgrade was done… The last annual was performed in November of 2020 and so is not due again until December first of 2021!… The opposite of a barn find or sitter, this is a super well maintained airplane, flown 32 hours since the last annual and still in calendar annual today!!…

This airplane suffered damage to the lower cowl (dent) and the left wingtip (dent) when the pilot mistakenly released the brakes and taxied at idle into the edge of a hanger while his head was down… So you need only: replace the left tip, message the little leading edge inboard dings and straighten or replace the left lower cowling skin and the airframe is ready to go!… The paperwork is awesome, including complete and consecutive logbooks for the airframe from may of 1946 onward to the present (5 books, the early books don't have many pages). Total airframe time is 4,927. Also included are: original operation manual, Flight manual, 337's, A.D. complience sheets, weight and balance, 8130's, records fron new from the faa on microfiche, etc.,etc. And the faa bill of sale!
The aircraft is located in Kent, Washington and is currently being offered for US $7,995, although bids are also being accepted. Click here to check out the listing.