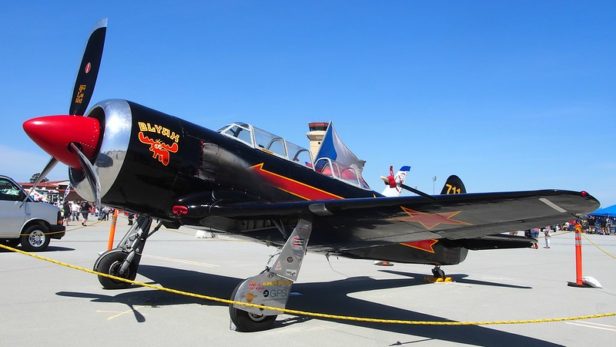 1952 Yakovlev/Haley Yak 11 NX2124X (S/N 102146) is currently available for sale with a reduced price.
The machine, described as "one of the most updated and user friendly YAK aircraft available" reportedly has 5,423 hours TTSNEW, while the Pratt and Whitney R-2000-4 engine has 1100 SMOH (60 since lower end overhaul by Anderson Aeromotive in 2013). It is described as including an avionics package, custom 16 gallon oil tank, pre-oil system, outboard wing fuel tanks, Sam Davis custom exhaust system
12" Aluminum oil cooler, spray bar supplemental cooling system, hydraulic disc brakes, light composite nitrogen bottle for gear and flaps and electric retractable tailwheel – locking.
The aircraft is located in California and is currently being offered for $350,000. Click here to check out the complete listing.
(via Courtesy Aircraft Sales Photo: Jack Snell via Flickr)