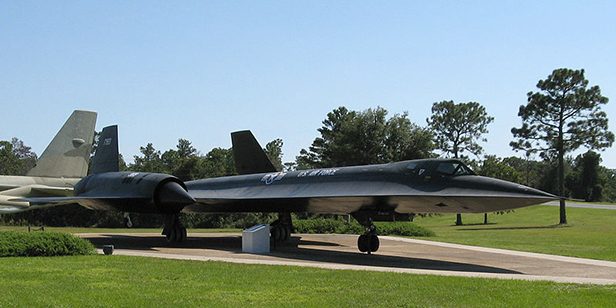 The Air Force Armament Museum located at Eglin Air Force Base in Florida is in the process of repainting their SR-71 Blackbird.
The aircraft, SR-71A S/N 61-7959, was completed in 1965 and, in 1975, was modified with a nine-foot boom on its aft end carrying Electronic Countermeasures and an Optical Bar Camera. The result earned the machine the moniker "Big Tail" and it would remain the only example of the type to be fitted with the modification, as tests revealed that the equipment provided no marked advantage. The aircraft performed its last flight in 1976, being placed in outdoor storage before being moved to its current home in 1991.
The repainting process is reportedly being carried out with brush and rollers and, as of this writing, prep work has been completed and primer application is in progress. When complete, the machine will reportedly retain its signature black finish.
Click below to check out photos of the progress.

(via Air Force Armament Museum Foundation Additional Information via SR-71.org, HABU.org and Airwingmedia Top Photo: Greg Goebel via Wikimedia Commons)