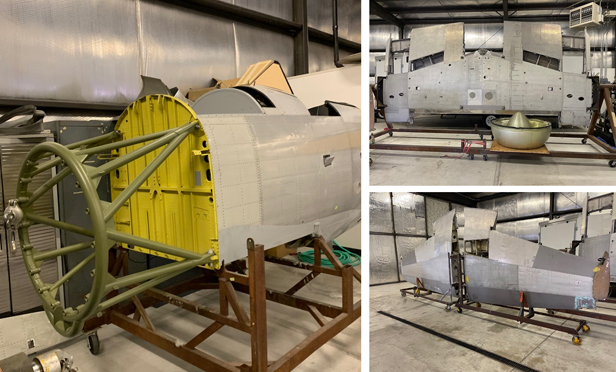 A 1950 Hawker Sea Fury FB11 has hit the market. The machine has been under restoration by Pacific Fighters of Idaho Falls, ID and the airframe is described as "very complete." It is powered by a Wright R-3350-26W overhauled by N.A.S. Alameda.
Restoration work completed: R-3350 Engine Conversion; Rear jump seat conversion – by Sanders Aircraft Technologies; Fuselage restored; Tailcone restored; Wings – rebuild 90% completed; Landing gear rebuilt; F-102 Wheels and Brakes; Gear doors – need reskinning; Many parts are either new or overhauled to 0 time condition. History: Hawker Sea Fury WN???, construction number 41H/656822 was built as a Mk II for the Royal Navy. Its service history in the Royal Navy isn't known at this time. In the 1950's it was part of the sale to Iraq and became one of the Baghdad Fury's. This Sea Fury was recovered from the Iraqi dessert by Ed Jurist and David Tallichet in 1979.
The buyer can choose to have the Sea Fury completed by Pacific Fighters or move the project and complete at the shop of their choosing. It is currently available for $630,000. Click here to check out the complete listing.