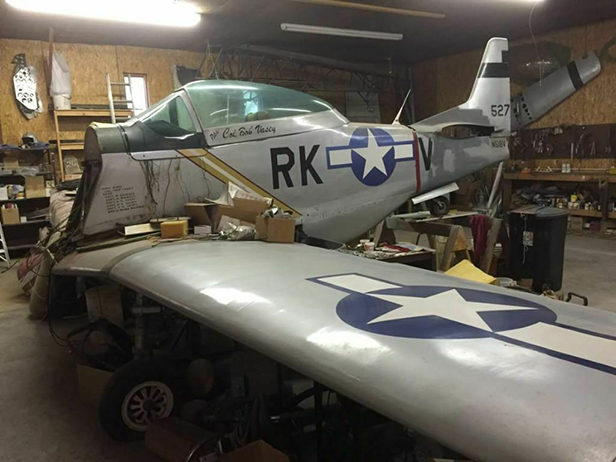 An 80% Jurca P-51 restoration project has hit the market.
According to the listing, the aircraft was started in the late 1970s and began flying in the 1980s, making several trips to Oshkosh and other airshows over the years. It reportedly incorporates a steel tube fuselage was featured in a 1991 edition of Sport Pilot magazine.
This aircraft is mostly complete. To my knowledge all that is missing is a prop, spinner, lower cowling, and the wing-root fillets. All landing gear is complete. Cooling system is complete, inner and outter gear doors are there and in very nice condition. Doghouse scoop is there, upper cowling with coolant header tank is accounted for. Cockpit is complete and it has toe brakes. This plane was built as a two seater and still has the rear seat mounts with seat belts. The engine is a 400 Ford and it is assumed that it is a core needing rebuilt. The reduction unit is a Geschweinder geared unit that turns very smooth and is tight.
The listing also states: "The aircraft and all its parts will move easily on a 20′ car trailer… There are roughly 150 hours on the airframe. All build papers and plans are included."
The project is located in Paola, Kansas and is currently available for bidding. Click here to check out the complete listing.