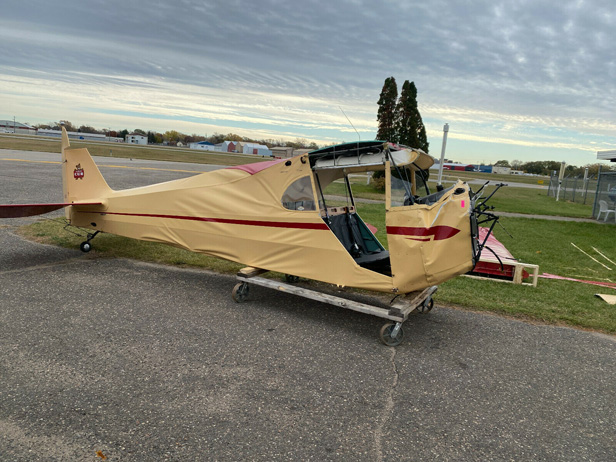 Please Note: This is an archived post. The information presented here may not be current and the associated listing may no longer be active.
A 1940 Piper J-4a Cub Coupe airframe hgas been spotted for sale. The listing states (in part):
1,650 TT, restored 2018, front damaged, very, very repairable, cheap!… This aircraft had a very nice, very complete rebuild/refurbishment signed off in 2017. Extras added at this time were: Hooker shoulder harnesses and seatbelts, Grove wheels and disc brakes, New style gascolator and fuel selector, New style tach, airspeed and altimeter. The interior is super well done, with nicely done woodwork, new seat covering, headliner and baggage sling. The dash was cleaned up and all new electrical wiring and switches added. Last annual was performed 4/14/2021 (so this airplane is technically still in annual until next spring, not a sitter). Unfortunately, a takeoff in May of this year resulted in a stall, and the airplane landed nose first! As you can imagine, the engine was damaged, and it has been removed and is not included here.
The aircraft is located in Minneapolis, Minnesota and is currently available for bidding. Click here to check out the listing.