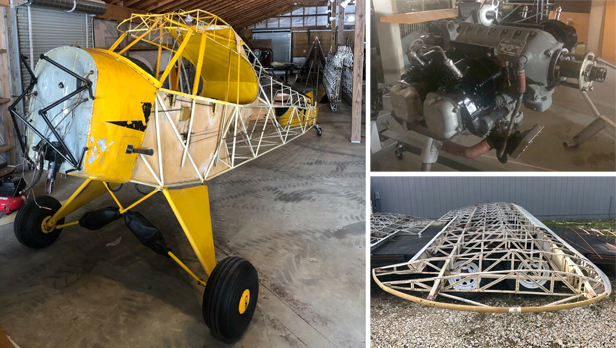 A 1946 Piper J-3 Cub project has hit the market. The listing states (in part):
This aircraft was in a wind storm and aircraft was tied down and flipped over. Wings have rib damage and both front struts leading edge, Fuselage cockpit on top superstructure needs replaced along with some tubing. The cowling and prop will need replaced, boot cowl is pretty beat up. I have added another boot cowl with this project but it's not perfect, also added another superstructure. C65-8F 114 hours smoh crank was dialed and is good. New Tires, Bungies and newly covered rudder. Needs repairs and glass… Has airworthiness and a FAA bill of sale. N6806H has all logs… The aircraft has most parts but fairings and will need to be made and hardware may need to be bought. Last entry on log was 2014 with carburetor overhaul. Plane was in process of making airworthy when wind damage occurred.
The project is located in Lone Jack, Missouri and is currently available for bidding. Click here to check out the complete listing.