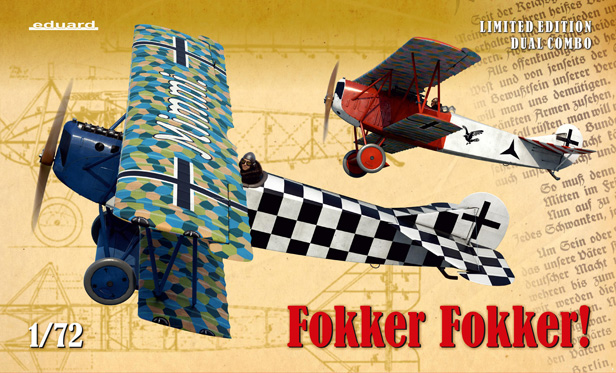 Eduard has released a new, limited edition "Fokker Fokker!" dual combo kit representing Fokker D.VII machines produced by the Fokker factory.
The 1/72 offering (2133) includes parts to build two aircraft and reportedly includes Eduard plastic parts and decals, pre-painted photo-etched parts, a painting mask and resin BMW IIIa and Mercedes D III engines. 12 marking options are also included representing machines flown by Rudolf Berthold, Josef Jacobs (365/18), Harald Auffarth (387/18), Willi Gabriel (286/18), Heinz Küstner, Heinrich Baurose (4301/18), Gotthard Sachsenberg, Friedrich Wilhelm Hippert (505/18), Ltn. d. R. Arthur Laumann (4282/18), Erich Loewenhardt, Ernst Udet (4253/18) and Karl Bolle.
Click below to check out the product page and additional images.