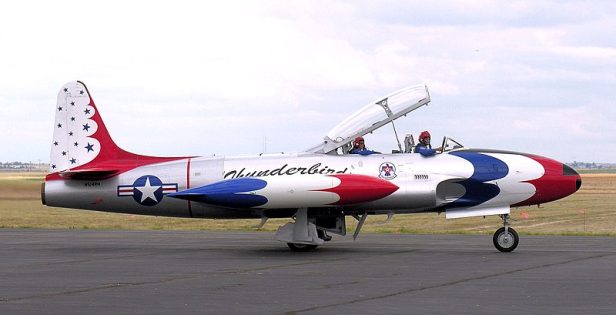 Please Note: This is an archived post. The information presented here may not be current and the associated listing may no longer be active.
Lockheed T-33A N514RH has hit the market. The airframe reportedly has 248 hrs since restoration by Roy Halladay, while the Allison J-33-A-35 engine has 148 hrs SMOH by Aero Turbine (37 hrs since hot section – by Aero Turbine).
Avionics: King KX-165 nav/com, King KX-155 nav/com, BF Goodrich T-CAS, Garmin 150 XL GPS, Grand Rapids Technologies EFiS screens including engine instrument displays, ADSB U Avionics E, KT-76C X-ponder, KN-62 DME, KMA-24 Audio panel, PS Engineering intercom, Annunciator Pannel; Inspection Status: Sold with fresh Condition Inspection at Sale. Spares: Allison J-33-A-35 Engine. 72 hrs. SMOH. 0 Since Hot Section – Overhaul by Aero Turbine, 2x Tiptanks, 2x Spare overhauled Main Wheels & Tires, 1x Spare overhauled Nose Wheel & Tire, 2x Overhauled Fuel Pumps, 1x Canopy & Frame, 1x Aileron Booster Unit, 1x Tailpipe, Brakes & Resevoirs, Hardware, Hydraulic Spares – Actuators etc… 1 Set – Manuals; Other: Aft fuselage tail stand (Rebuilt), Locker (painted in Thunderbird colors), Engine stand (Rebuilt).
The aircraft is described as a multiple award winner, taking home Best Jet, JUdges Appraciation Award and Silver Wrench Award (Roy Halladay) at EAA's AirVenture 2006. The aircraft is currently being offered for $300,000. Click here to check out the listing.
(Photo: Greg Goebel via Wikimedia Commons)