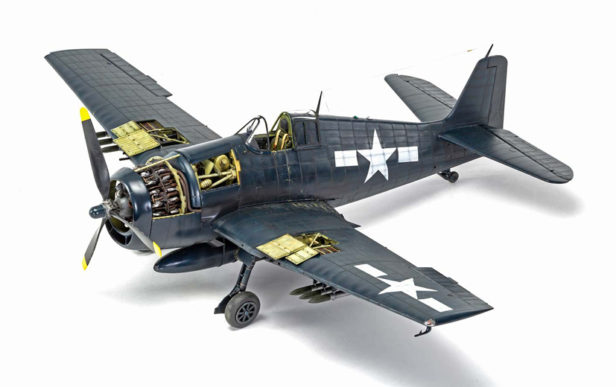 Today, Airfix released its highly anticipated, new tool F6F-5 Hellcat model kit in a massive 1/24 scale.
As previously reported, the model was originally announced at the Telford model show in November 2018. It reportedly includes over 600 parts with full cockpit detail; a complete, fully detailed radial engine, engine mount and all ancillaries; separate engine cowling and forward fuselage panels; detailed undercarriage, undercarriage bays and arrestor hook; fully detailed gun bays with complete machine guns and ammunition trays and realistic surface detailing showing rivets, fasteners and rippled stressed skin. Drop tanks (2 types), 250lb and 500lb bombs and rockets are also included.
The kit (A19004) is also touted as offering four liveries and options to display the wings extended or folded, the canopy open or closed and the landing gear and flaps either extended or retracted.
Product Page ($145.95)