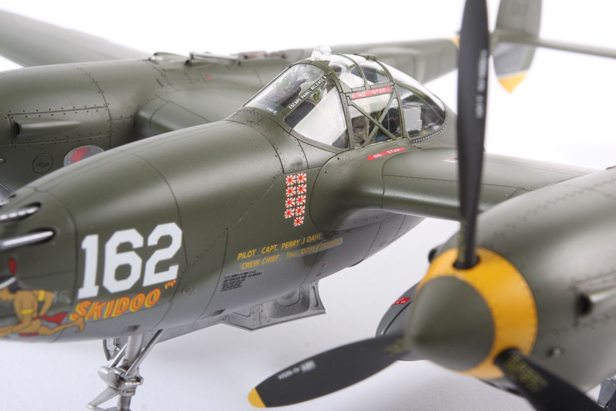 Tamiya has announced the upcoming release of a new P-38H Lightning model kit in 1/48 scale.
The kit (25199) offers a bevy of new parts to replicate the type, including larger supercharger intakes, rear canopy without reinforcing frames, instrumentation, nose landing gear strut and bay covers, main landing gear reinforcements, upgraded 20mm cannon and 12.7mm machine guns that were often modified on the ground, plus turbocharger coolant pipe. It also includes weights for accurate balance and display and a detailed cockpit with wheel-type controls, radio, throttle box and more.
One marking option will be included representing 432nd Fighter Squadron, part of the 475th Fighter Group that was devastatingly effective from 1943-44 over the Pacific. A canopy painting mask is also included as well as a full-color painting guide.
The new offering will reportedly be available as a limited edition masterpiece kit with only one production run. It will be released in a white box format beginning sometime in late July. Click below to check out additional images.