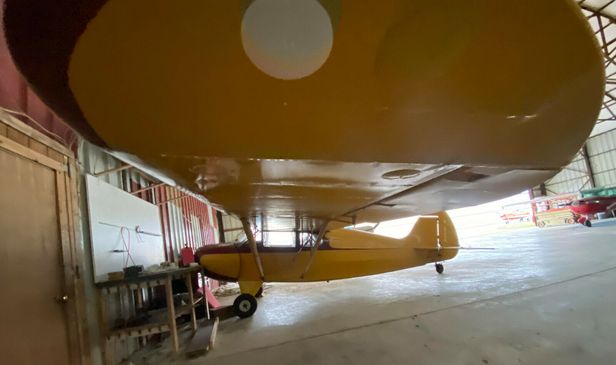 Please Note: This is an archived post. The information presented here may not be current and the associated listing may no longer be active.
A 1949 Funk has been spotted for sale. The listing states (in part):
2486 TT, 0-235 Lycoming conversion, hard landing to left gear, close to perfect!… Other mods are to modern Cleveland wheels and brakes, shoulder harnesses, wingtip strobes auto fuel approval, etc. Fabric on the whole airframe was recently (2006) upgraded to Ceconite… Last annual just expired 4/1/2021, so this airplane is fresh, not a sitter… A firm landing has resulted in the left side of the airplane sitting low… It is not clear what was bent, as there is no obvious fuselage wrinkling, nor obvious gear leg deformation. Perhaps there is a problem with the bungee cords. It would not appear that there is any serious deformation, and you can see there is no firewall deformation at all. No damage to the wings or tail… The 0-235 engine has been removed as it was beyond TBO. The exhaust system (undamaged), airbox assembly (undamaged) and engine mount (undamaged) are all included, as are the paperwork to reinstall either a 235- c, c1 or c2c! This aircraft is in very good to excellent condition, with a repairable isolated flaw.
The aircraft is located in Geneseo, NY and is available for US $5,995, although bids are also being accepted. Click here to check out the listing.