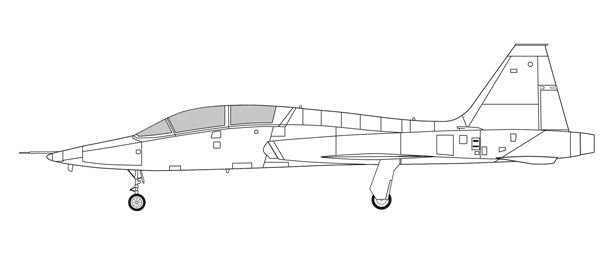 75% complete Northrop T-38A Talon projects "plus many extras" are currently available for sale. The listing states (in part):
The owner has spent years collecting parts. Many of the parts are new surplus and many have tags or USAF paperwork. There are two wings, dash 23 and dash 29. The dash 29 wing is the only one in civilian hands, a 15,000 hour wing with a current time of approximately 800 hours. (Cost of $600,000 to the USAF) The project collection of parts spans over the past 15 years.
The listing includes the following list of parts:
A complete nose section including doors and extra skins, nose cone and pitot tube
Landing gear and brakes are the latest the USAF has to date and are self adjusting type for greater braking capabilities.
USAF air cycle machine still in the original crate, also a 2nd air cycle machine taken from a flying aircraft.
Several Fuselages
Gear doors, nose and mains and complete speed brake package with actuators
Wing leading edges restored and in crates
(4) ejection seats with parachutes with survival seats
(2) additional USAF rebuilt serviceable nose gears in crates
Also fuel tank bladders and plumbing
Large Selection of manuals, inspection cards and cockpit checklists.
Box of control stick grips, 12-14 ea.
Several J-85-5 engines with after includes accessory sections, engine parts, generator package with HYD high pressure pumps.
The projects are located in Houston, TX and are currently being offered for $250,000. Click here and here to check out complete listings.
Image: (Public Domain via Wikimedia Commons)