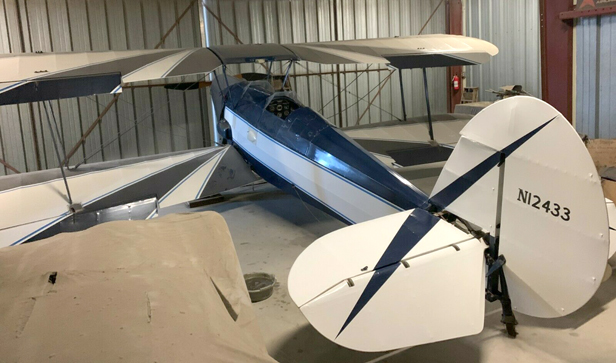 A 1945 SNCAN Stampe SV4C has been spotted for sale. The listing states (in part):
US registered Stampe SV4C, production serial #23, N12433 (aircraft was registered as a 1946 when imported in the US). Experimental, unlimited, airworthiness certificate, 2550 hours total time. Clear title. Aircraft has all logs since new… Aircraft is complete except for the front instrument panel and the correct fuel tank cap… Engine is a 140 hp Renault 4P03 and the serial number matches the number recorded in the European logbooks, 2550 hours total time, (600+ hours SMOH)… Wheels and brakes have been converted to Cleveland wheels and hydraulic disk brakes which greatly increases ground handling capabilities in crosswinds. Aircraft is in storage and will need a through inspection and a current annual condition inspection prior to being flown…
The aircraft is located in Hollister, California and is currently available for bidding. Click here to check out the listing.