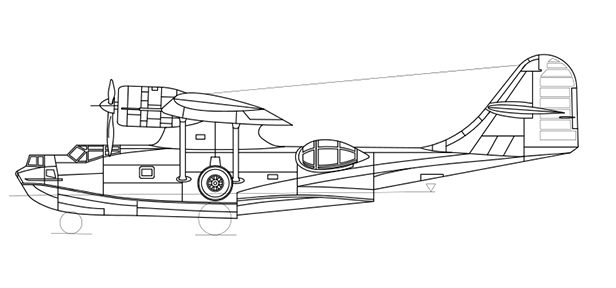 1945 Consolidated Vultee PBY-5A Catalina S/N 11074 (N222FT) "Flyin Turtle" has hit the market.
The airframe reportedly has 9207.5 TTSN and 234.7 hrs since restoration. The two Pratt & Whitney R-1830-92 engines have 64.7 and 74.7 SMOH. The machine underwent a multimillion dollar restoration in the 1980s and was converted to include a 10 passenger executive interior. This process saw modification of the rear fuselage to include a bathroom and sleeping quarters.
The aircraft is said to be in annual and is described as "a flying yacht." It is located in Texas and is currently being offered for $475,000 USD. Click here and here to check out complete listings.
(Drawing: Kaboldy via Wikimedia Commons)