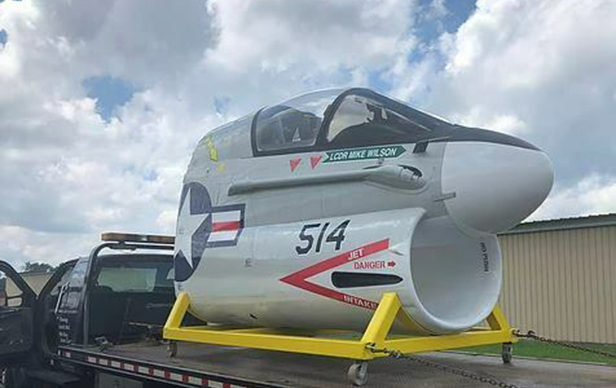 The "beautifully restored" cockpit section of Vought A-7B Corsair II B/N 154456 has hit the market.
Described as "a truly a one-of-a-kind offering," the cockpit was reportedly found in "derelict condition" five years ago, filled with "20+ years of desert sand." It was sent to Century of Flight restoration services and brought back to life over a two year period. The listing states (in part):
Completely cleaned inside and out, and then blasted down to the bear metal, the nose gear was removed to accommodate a mounting point for an extremely sturdy, custom-built frame with heavy-duty casters. The entire aircraft can easily be rolled/moved by one person. The interior and exterior were then primed and painted to reflect an A-7B serving in VA-205 in the late 70s/early 80s. All avionics were taken apart, cleaned, painted and look showroom new. Gunsight has been fitted with LED lighting…allowing you to keep gunsight reticle on without overheating. Refueling probe freely moves. ESCAPAC seat has been restored with the same attention to detail as the rest of the aircraft. Purchase includes a complete radar w/ NOS dish, and LTV-produced canopy support strut.
The cockpit is located in Saint Paul, Minnesota and is currently being offered for US $37,500, although offers are also being accepted. Click here to check out the complete listing.