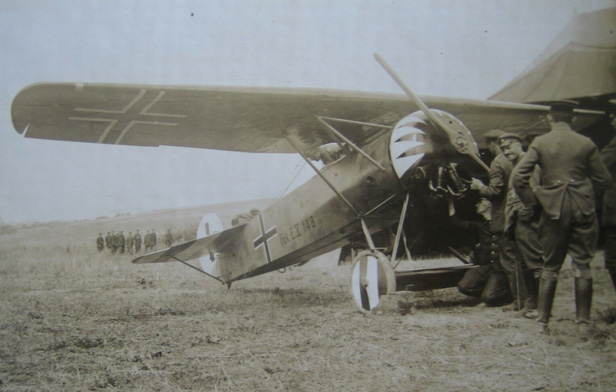 A "WW1 German pilot photo album" reportedly containing approximately 240 images has been spotted for sale. The listing states (in part):
Very large hardbound photo album about 50 x 34 cm, with approximately 240 photos on carton type pages. Photos range in size from 5 x 5cm to very large 35 x 27cm! All photos are very sharp and in great condition. Each page is protected by a clear divider page and this has probably helped keep the photos in such good condition. The content of the album is excellent, though as the photos are not labelled, bar a few faintly in pencil, the unit is not clear though appears to be FA 290b and the photos date from 1918, certainly pilots graves seem to be from this unit and thoses pilots or observer badges that are clear enough, are Bavarian.

Other photos include various aircraft types; especially Hannover CLII's, LVG's and DFW's, the types you would expect to see in a 2-seater unit at this time of the War. crew members, crashes, captured British aircraft, pilots and aircrew together or singly, around aircraft, machine gun practice, a couple of aircraft graveyards with lots of broken up German aircraft, a really good shot looking down on a battle damages LVG, Austrian pilots with German pilots, railway gun 24 km Theodor Karl, 17 cm cannon Samuel, several of knocked out British tanks at Moisier, pilots graves and quite a few of different military funerals for aircrew. Also airfield shots, transport of unit and unit being transported by rail, crashed Albatros D and a crashed Pfalz DIII; insignia looks like Werner Hertel of Jasta 40, etc etc the are also a number from the Middle Eastern front. A number of very good and scarce photos of a Jasta 6 Fokker D VIII. These types only went into service in August 1918 and presumably this one landed at FA 290b's airfield for repair, fuel or such as its surrounded by interested men from the unit!

There are also a large number of aerial photographs taken over France and the battlefields but also some that appear to be from the Middle Eastern front, also of aerodromes from the sky, several good ones of German aircraft in flight. A number of the aerial photos are montages of lots of aerial view to make one bigger view, photos of these take up almost an entire page.
The album is located in the UK and is currently being offered for GBP 1,945. Click here to check out the complete listing.