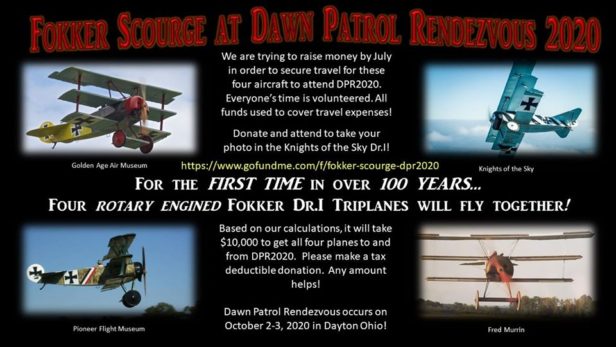 A GoFundMe campaign has been launched that aims to put four rotary-powered Fokker triplanes in the air over Dayton, Ohio at the upcoming Dawn Patrol Rendezvous 2020 event scheduled for October 2-3.
Golden Age Air Museum, Pioneer Flight Museum, Knights of the Sky, and Fred Murrin have committed to bringing their historical aircraft and their passion for WWI aviation to DPR2020. We need help though! We have calculated our travel expenses at $10,000 to drive all four aircraft across the country to attend. We need all donations by the end of July in order for them to be released in time to use for our travel.
Those who would like to contribute toward the effort can do so here.