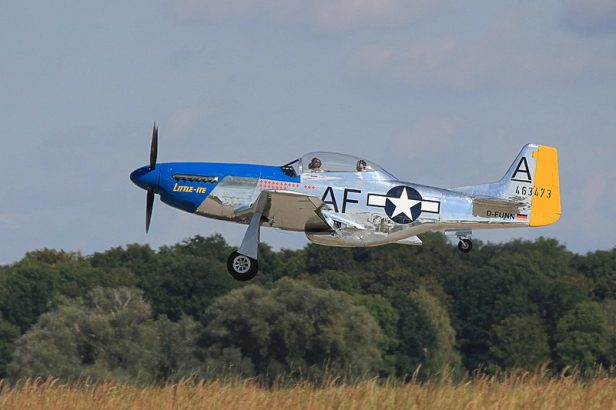 Please Note: This is an archived post. The information presented here may not be current and the associated listing may no longer be active.
North American TF-51D Mustang (S/N 44-63473 / D-FUNN) is available for sale.
According to the listing, the aircraft was built as P-51D-25-NA in Inglewood at North American in 1944 before being delivered to the USAAF and listed with the tactical code 44-73117. It was then allocated to Air Force Reserve (AFRES) and served with the New Jersey Air National Guard (ANG NJ). It has been in civil use since 1996 and has been converted to a two seater TF-51. Since 2010 the aircraft has been based in Germany, where it underwent an extensive two year restoration.
The airframe and Rolls-Royce Packard V-1650-7 engine reportedly have 67 hrs TSOH / 158 landings. The Hamilton Standard 24-D50 (w/Paddle Blades) also has 67 hrs TSOH. The aircraft is currently being offered for €3,300,000. Click here to check out the complete listing.
(Photo: Dornenwolf via Flickr)