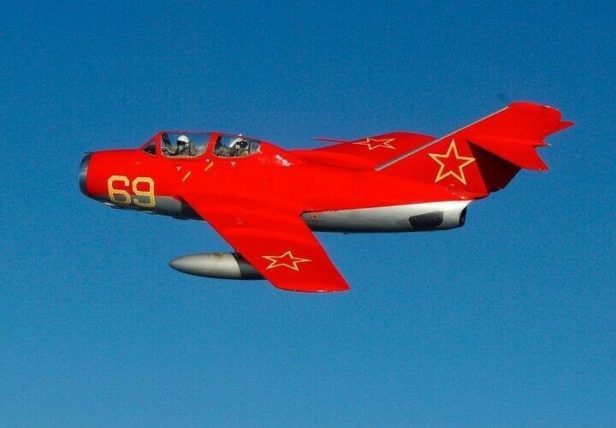 A "fully airworthy" MiG-15UTI has hit the market. According to the listing, the aircraft came from Poland in the early 1990s and was remanufactured in the US by the same Polish engineering officer who cared for it in Poland during its squadron service.
The aircraft is provided with spare parts (brakes, etc), sufficient for long term use. Ejection seats are active, and the aircraft is provided with the correct parachutes for the seats. Maintenance manuals and flight manuals are included. Avionics are modern digital Nav/Comm, Transponder, and DME. Intercoms are custom made Sigtronics and asre excellent. Power outlets in both cockpits for portable electronics to be powered. Logs are complete and provided. Aircraft is out of annual, stored on jacks in dry hangar in NE USA. Annual will be done after purchase. Labor to install Tail-Beacon ADSB included for purchaser-supplied ADSB system.
The listing also states that training is not included, but is available to qualified purchasers, by the same instructor who flew the aircraft for decades at Test Pilot Schools. It can reportedly be ferried to anywhere in the US at buyer's expense.
The aircraft is located in Keyport, New Jersey and is currently available for bidding. Click here to check out the complete listing.