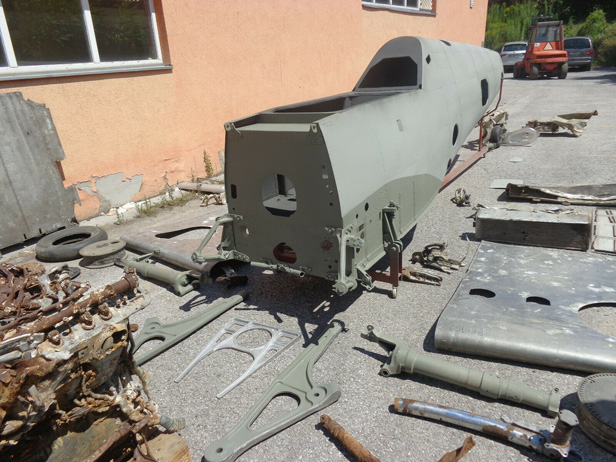 A Messerschmitt BF 109 G6 project has hit the market. The listing states (in part):
Original identity with battle history over Germany against US fighters and bombers! Great once a lifetime opportunity – start your Bf 109 rebuilding project now by having most of the significant parts all in one package! If you need to have the wings and tail built as well, please ask for pricing. We can do them. No pop rivets used! fuselage rebuilt after factory drawings.
The project is located in Garmisch-Partenkirchen, Germany and is currently being offered for US $119,000, although offers are also being accepted. Click here to check out the complete listing.
A list of project specifics can be found below.
Bf 109 G6 Project
PLEASE NOTE: unless marked "repro" all parts are original!
Fuselage:
Fuselage built after factory drawings built with hammered rivets repro
Original parts used:
Original landing gear attachment structures left and right, bolts for landing gears
Restored center wing box
Center attachment point on the firewall
Mount for drop tank
Drop tank
1 belly panel (tank lid below the cockpit)
24V ground power plug
Fuelnozzle with cap and short fuel lines/tubes
Oxygen lid
Some stringer in the fuselage and cockpit
Tailwheel strut attachment point
Reproduction covers:
Man hole lid
Baggage compartment lid
2x fuel nozzle lids
2 covers in the last fuselage segment
Tailwheel locking structure
Cockpit:
Center canopy
Rear canopy repro
1 rudder bar assembly from crash with one brake cylinder
1 rudder bar mount repro
1 brake cylinder
2 rudder pedals
1 bell crank ailerons
1 canon cover repro
1 box with parts of the fuse box and wires from crash
Misc smaller parts
Landing gears (all original):
Landing gear left
Axle left
Wheel hub and tire left
Brake lid left
Landing gear right
Wheel hub and tire right
Brake lid right
Tailwheel assembly complete incl. hub and tire
Ta
1 horizontal including mounting brackets from crash
2 brackets for rudder mount
1 Leitwerkstraeger from crash
1 Leitwerkstraeger ribs repro
Wings:
Left:
1 large upper wing panel leading edge to trailing edge incl all cut outs
Upper and lower wing attachment point
1 wing radiator
1 lower inner wing panel
1 radiator flap
1 flap
1 aileron repro
1 wing tip crash
Right:
1 large upper wing panel leading edge to trailing edge incl all cut outs
Upper and lower wing attachment point
1 wing radiator
1 lower inner wing panel
1 radiator flap crash
1 aileron repro
Firewall forward:
1 DB 605 crash
1 DB 605 crash
1 Propeller hub and shaft crash
1 lower inner wing panel
1 radiator flap
1 flap
1 aileron repro
1 wing tip crash
Right:
1 large upper wing panel leading edge to trailing edge incl all cut outs
Upper and lower wing attachment point
1 wing radiator
1 lower inner wing panel
1 radiator flap crash
1 aileron repro
Firewall forward:
1 DB 605 crash
1 DB 605 crash
1 Propeller hub and shaft crash
1 spinner
3 propeller blades GFK repro
1 cowling bearer
1 Bosch injection pump
2 engine mounts left and right repro
2 lower engine mounts left and right crash
1 reinforcement for ammo trays repro
1 right engine cowling G6