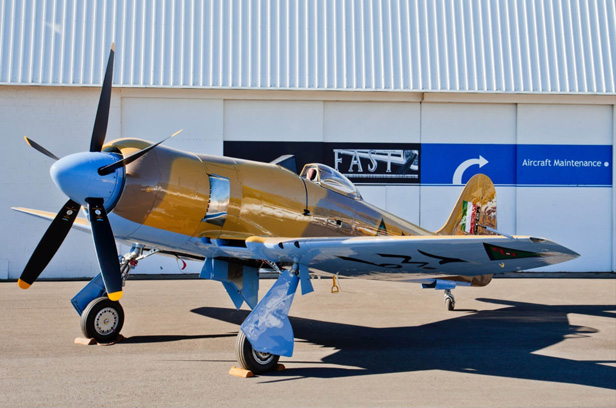 A Centuarus-powered 1947 Hawker ISS Fury FB.10 (OO-ISS) described as "fully restored, it its original configuration" has hit the market. The listing states (in part):
In 1979, American aircraft collectors Ed Jurist and David Tallichet purchased 24 ISS Furies from the Iraqi government and shipped them to Orlando, Florida, USA where they were offered for sale. ISS 249 was purchased by Rob Poynton / Panama Jacks Vintage Aircraft Co. and shipped to Perth, Australia where its restoration began. In 2009, it was sold to its current owner and shipped to Belgium where the restoration was completed by FAST Aero. ISS 249 is only of only four surviving Hawker Fury / Sea Fury which flies with an original Bristol Centaurus 18 sleeve valve engine. This is also the only ISS Fury currently flying in its original Iraqi Air Force markings.
The airframe reportedly has 22.3 hrs since restoration by Fast Aero, Belgium, while the Bristol Centaurus 18 engine has 22.3 hrs since overhaul by Vintage Radials / Mike Nixon. The Dowty Rotol 5 blade propeller has 22.3 hrs since overhaul by Skycraft, UK. The aircraft is located in Belgium and is currently being offered for €1,945,000. Click here to check out the listing.
(Additional Information via Platinum Fighter Sales)