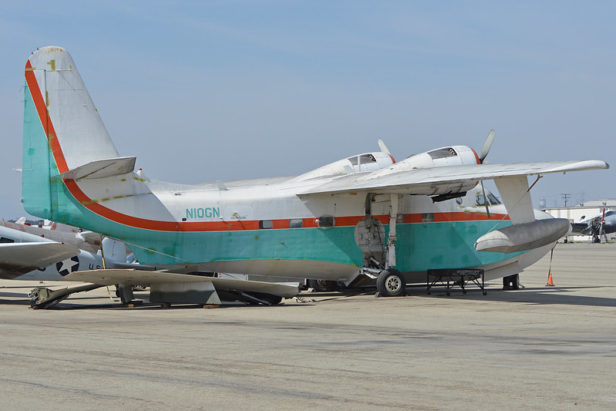 1959 Grumman HU-16B Albatross S/N 146427 (N10GN) has hit the market.
The airframe reportedly has 5,710 TTSN (airframe life limit at 8,371 hrs: 2,661 hrs remaining), while the two Wright R-1820-76B engines have 506 and 536 SMOH.
The machine includes an avionics package with Garmin GNS 530 GPS/comm, Collins VHF-20 comm, Collins 331A-3G HSI compass system: PN-101 indicator – pilot's panel, King KPX-750 transponder, NAT AA12-001 audio panel, Trans-Cal SSD120 encoder, multi station intercom and Bose headset adapters in cockpit. Additional equipment includes Buehn engine L&R pre-oil systems and scavenge systems.
The aircraft reportedly has an FAA Restricted Category (Carriage of Cargo) airworthiness certificate under FAA Type Certificate A33SO, Rev 10 and an FAA approved inspection program. It is located in Chino, California and is currently being offered for $299,000 "as is" or $599,000 with 2x 0 SMOH engines and FWF overhaul. Click here to check out the complete listing.
(Photo: Alan Wilson / Flickr)